What do folks say?
Check out this video from the Indiana Arbor Day Celebration
Want to add a comment?
Drop a line to appleseedz@earthlink.net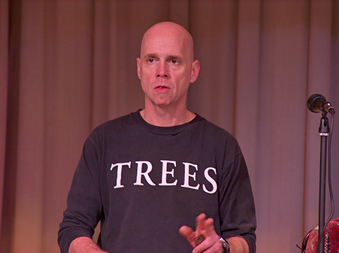 Comments from teachers and administrators include:
"Your program Trail of Trees instilled in my students a sense of ability to participate in individual and community stewardship, inspiring action at both levels . . . your high energy presentation is very inspiring. It's the perfect complement to our new project kick-off."
"Different students respond to different teaching styles and techniques. You have the ability to reach students on a level to make them do a behavioral change."
"To my students, science IS a foreign language, not only did you entertain them, they understand it more, and your broad vocabulary interested them. They're still talking about you."
---
September 15, 2009

Dear Tim,

I hope you heard your praises ringing from the rafters!

Everyone at Imagine It! truly loved your programming.  My Imaginators thought you were stellar and wanted to know if you could come back  every week.  (To which I answered, no.)

They said you really keyed into the audience and were able to flow with the different age groups.  This is a rare talent indeed.  I will get folks in here who say that they are very experienced performing for children and then toddlers in the audience will knock them for a loop.

Thank you again.

Pam Duncan
Manager of Museum Programming
Imagine It!
The Children's Museum of Atlanta
www.imagineit-cma.org
---
March 22, 2008
Dear Tim,

My sincerest thanks to you for sharing your passion and professionalism in the 2008 San Francisco Flower & Garden Show's acclaimed seminar series. I enjoyed working with you and want to thank you for participating in one of the world's great garden shows.

Warm regards,
Janet Endsley
Seminar Manager
San Francisco Flower & Garden Show
---
February 3, 2008
Dear Tim,
I wanted to take the opportunity to express my thanks for your program. Before you came, I was wondering what the benefit of it would be. It was clear when I attended your presentation.
It is a know fact that we retain information when it sung to us and when it is actively presented to us. You hit the nail on the head. The students were actively engaged throughout the program. All the students!
Transpiration, evaporation, and erosion are vividly in my memory bank! You did a marvelous job. It was obvious you were very well prepared and enjoy what you do.
Lisa Miller, 4th grade teacher
Frangus Elementary
Orlando, Florida
---
April 17, 2006
Dear Tim,

Thank you very, very much for participating in our Asheville Arbor Day celebration at Vance Elementary School on April 1. Your performance was great—so much participation. I was as excited as the kids. And the fact your friends helped you out was a plus—thank them for us please. Here is your check.You are worth a million and I wish I had it. Hope you considercoming back to Asheville, maybe next year at another location. Good luck with your Spring schedule—bet you keep really busy.
Thanks again.

Sincerely, Susan Roderick
Executive Director
Quality Forward
www.qualityforward.org
Asheville, NC 28802